SECOND CHANCE FOR BUFFALOES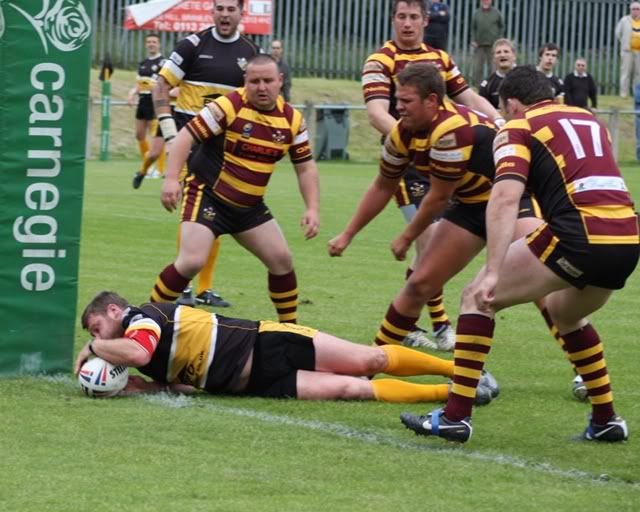 Bramley Buffaloes will get another chance to clinch a sixth consecutive place at the 2010 Co-operative Finals when they face Huddersfield Underbank Rangers at Stanningley's Arthur Miller Stadium on Sunday September 19 (2.30pm kick-off). Entry is £4 for Adults, £2 for Seniors.
After losing to Warrington Wizards in last weekend's play-off match, the Buffaloes coach Mark Butterill is keen to see a big improvement in his side's performance: "In regards to the warrington game we were our own worst enemies.
"We started slowly and we decided to take one or two matters into our own hands. This had a massive negative effect on our game.
"Make no mistake about it that the players know where they stand on ill discipline after last Saturday and some have been told that their Bramley careers are on the line this weekend if there is a repeat," added Mark whose side lost at Underbank in the final game of the regular season.
"Huddersfield are a side that always tread a fine line on the discipline front and will look to test ours this Sunday as they did so well in the last game.
"I'm sure that our key players will be targeted for some 'attention' but it is up to the officials to deal with it and not my guys.
"I was disappointed in some of the tactics used by Huddersfield in our last league game against us but at the end of the day they did what they set out to do which was stop us from playing rugby.
"My guys know that if they get involved this weekend their season and their Buffaloes' careers will be over," added Mark.
The Buffaloes look likely to name a strong squad with the following 17 expected to take to the field:
Waddington, McGann, Caston, Drake, Richardson, Williams, Nicolls, Brandford, Harrison, Speight, Eliker, Brown, Wilkes, Green, Hulme, Mitchell and Leese.